November 11th, 2008 at 5:03 am by
Mark
Tags:
family
,
friends
,
inspiration
,
kids
,
myspace
,
prayers
,
star wars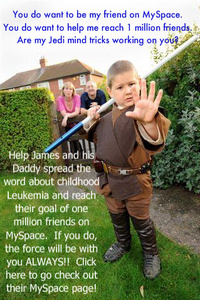 Whenever I think, "I have no heart," something always comes along to prove to me that I do.
My immediate thought is always to be skeptical of Internet Chain Letters and such, but with this one, I dug a little deeper and found that it's totaly legitimate…
Why the one million friends challenge? I get asked the questions, Why 1 million friends? What will it achieve? on a regular basis. So I thought I would try to explain. James and I used to come onto myspace to listen to music and look at the videos just before he was diagnosed and added a few friends.

When James was diagnosed and we came to terms with the fact that his cancer and its treatment was going to take over our lives we needed a distraction and the "James and Daddy" page was born. I asked James if he thought we could get one hundred friends and then one thousand and the ten thousand. When we reached ten thousand friends I asked James to set the next target. James said ONE MILLION.

We will gain nothing financially from this page but have gained friendship from people around the world and we have shared our story with you all and in return shared your stories. This page has helped us as a family deal with the tough times and share the good times. Now as a father I feel I have to achieve this challenge as I made a vow to James the day after he was born that I would never let him down and I would only make him a promise if I could keep it.

So there you have it, the reason for the challenge and why I need you to help me get more friends. We have tried the celebrity route with minor success so all we can do is keep sending out the bulletins and searching out the profiles that have loads of friends and big hearts.
I mentioned a while back, I can't have kids… Rather, not healthy ones, anyway… I have been using my vaginal dhea cream and I can say I found my peace with all of that a long time ago.
But then again, maybe that's why stuff like this tears me up so bad… Like it did with Ambriel… Like it does with someone else even closer who went through a bout of it herself (I love you, baby girl, I miss you, and I'm proud of you).
There's the futility factor, wishing I could do something to make it better, and I can't…
And then, of course, I see their faces they're smiling right through it most days.
That…
…is one of the few things that I glean hope from.
And I know damn well that despite everything else, those kids are toughter than I will ever be.
If you've got MySpace, be sure and add him as a friend.  Spread the word.  Make a donation.